hristmas

ritters
The Animals that Saved Christmas
© 2013 all rights reserved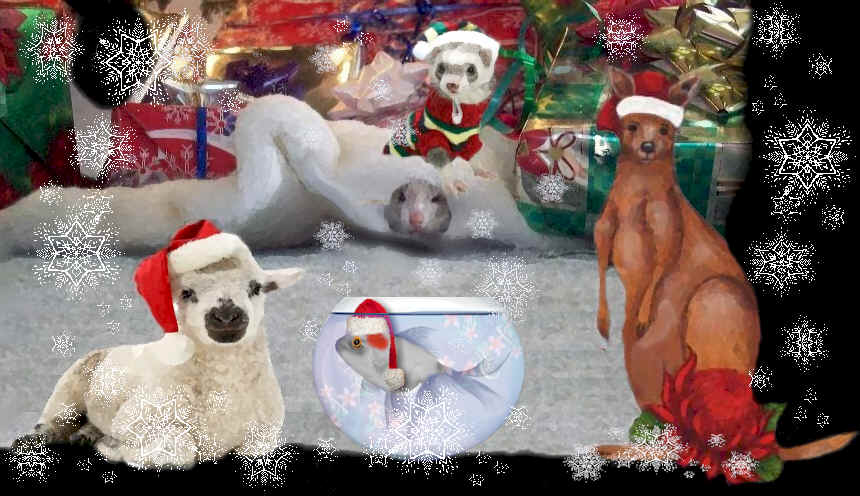 My Notes:
One of the greatest things we can do for children is to spend time with them. One of the best ways to spend time with them is to read to them. However they are taught, imagination plays a great role in their development. 'Christmas Critters' is a series of four parts and are dedicated to our (current) grandchildren, presented in order of their births. It begins with the twins, Jack & Miles. The next part is for their sister, Leona, at present, the only girl. The next story is for Kai and last, but certainly not least, for Felix. And they call me Bopa.

The North Pole is very much a real place and it is also a magic place, being home to Santa Claus, Mrs. Claus, the elves, and the reindeer. Santa's Secret Shop is here where all the toys for boys and girls are made and delivered all in one night on Christmas Eve, all over the world. Now adults might forget about the magic, but they cannot forget the wonder on the faces of children that truly believe, for it is the children that truly believe. Are you a child? Do you truly believe?
Much is known about and written about the world of Santa Claus, but do you know there were four times in the past when Christmas almost never happened, if it were not for animals, the 'Christmas Critters?' Oh sure, most everyone has heard the story of Rudolf the red nose reindeer and how he saved Christmas by his shiny red nose that glows. There was a terrible snow storm all over the world and Santa could not see without Rudolf's nose leading the way, but have you ever heard the stories about Jack & Miles the Ferrets, Leona the Lamb, Kai the Koi or Felix the Red Roo' (that's kangaroo for short)? These five critters saved Christmas too!
Now some might find it strange that animals can talk, can understand much more than many people might think and can do many things that seem impossible. But if you believe in Santa Claus and the magic of Christmas, the adventures of the 'Christmas Critters' are EASY to believe!
Christmas is not just for children of any age all over the world, it's for animals as well. Santa Claus loves girls and boys and he loves the animals too. Is it any wonder why the animals love him as well? Well, they do! Maybe you will understand this love after you read the full story of the 'Christmas Critters.' This story has four parts and are intended to be read to children. Feel free to embellish and make it your own. Make the sounds and gestures and teach your children to join in. And along the way, you just might find yourself grinning like a little kid, from ear to ear. Enjoy!
-Dahni Santa Bopa-
Christmas Eve 2013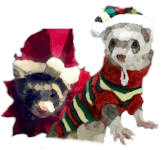 click Jack & Miles the Ferrets to continue
Or
Leona the Lamb Kai the Koi NEW Now Open

for the next stories
Notice: About all the images used here for 'Christmas Critters.' I have personally added  or altered images to fit the story line in this series, to most every design you have seen or will see. As an analogy, I may have not made the Christmas tree (the original images or designs) but I have helped to decorate them for the holidays.
I have no copyright or license to use these images, nor am I receiving or have any intention of deriving any income from them.
Other fashions and products with familiar likenesses are shared here as copies, found on the Internet and edited (decorated for the holidays by, myself). I am not responsible, for their having been legally licensed to use the images/text etc., nor am I am being compensated to use any of these image; nor have I paid to use them. I have no any intention to so be compensated. These are ALL strictly shared for ENTERTAINMENT and for your personal enjoyment ONLY! What I have presented here is, for FREE , for your enjoyment and is considered fair use. You assume any responsibility, for copying and sharing any image you find here!
I have no intentions of selling or making money from this. I just love our grandchildren and am writing these stories for them and I am more than willing to share these stories with you. At some point, I may have them bound and either illustrate them completely myself or have them professionally done. If and when at such point, they will become publicly available to purchase.

D.
You Are Presently surfing the 'Christmas Critters' in 'Special Services'
Home | Welcome | Navigate | About I-Imagine
Products & Services | Income Building | Educational | Special Services
click on any link above
for questions and concerns about this site:
Copyright © 2003 - 2020 I-IMAGINE All rights reserved.
I Privacy Policy I I Copyright Notice I I Contact Us I