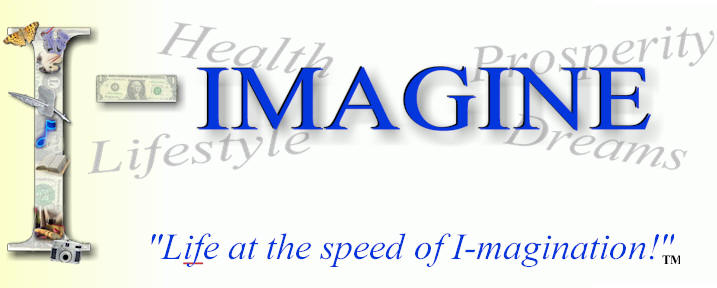 Hello, and WELCOME to each and every one of you. May your experience here be enlightening and enjoyable. May your return be frequent and may you bring many OTHERS!
I-Imagine is an organization, a company and a web site, dedicated to the I- (the Individual), Imagination.
I-Imagine is dedicated to Imagination. I-Imagine is for YOU!
I-Imagine is an Product Brokerage, Internet Marketing, One to One Marketing and Mass Customization organization
Products and Services are in the fields of arts and entertainment, literary works, educational seminars, speaking engagements, professional photographer services, multi-media production and professional music instruction. Our marketing consists of Internet Marketing and One to One Marketing. Mass customization allow us to customize many of these products and services to individual specifications.
Our Logo
Our logo is symbolic of both the arts and the lifestyles we each pursue or are living. The design is indicative of the abstract and inner function of the human mind, known as the imagination. The sum total of the parts in this logo represent the whole. I-Imagine is hyphenated to show the relationship between I (YOU), and the imagination. Without YOU, the imagination and all its many benefits would remain hidden and dormant, not dynamic and kinetic. YOU are the principal cause of imagination originating inside of and proceeding out from, with the many benefits to yourself and to the rest of us in the world.
The color of blue is used throughout the design and this website. It is symbolic of water and specifically, flowing water. The entire concept of I-Imagine is to stir up the imagination and to allow it to flow out into the real world, our day by day living; our practical world. When something is needed or desired; when opportunity seems lacking and when obstacles appear insurmountable and unmovable, Just I-Magine! In saying the following aloud or to yourself, you will understand that if all future endeavors are to be conceived, believed and achieved, I, (YOU) must imagine:
You must Imagine. You must Dream and Envision.
"I- IMAGINE!".
Our Motto

Life only is life, If the word If is perfectly balanced in its center, between the letter 'l' and the letter 'e'. We refer to the letter 'I' as INFORMATION and the letter 'F' we mean as as FLOW. Getting the information is the first step. Too little, too much and the wrong information cannot lead to flow. Using water as an analogy, too little information is like an area that has not seen rain for a long time. Get the picture of a dry, parched, barren and lifeless wasteland? Too much information is like too much rain. The ground gets saturated and then we have floods and all sorts of overflow, but it is not flow or flowing. The wrong information is like acid rain, polluted waters or stagnant waters. There is no life or living in that. If the word If is perfectly balanced in its center, between the letter 'L' and the letter 'E' we have LIFE. LIFE at the speed of I-magination.
Mission Statement
To deliver the highest quality goods and services which are customized to individual need and desire and adding VALUE. To deliver the highest quality of personal and individual service. To impact the lifestyles and economic futures of people all over the world, one by one.
Art, Sound & Intellectual Property
Unless otherwise notified and specified, all artwork, designs, backgrounds, animations, music/sound files and content used on this site are all original and © (copyrighted) by Dahni and I-Imagine. Whenever other content, artwork, music or sound files are used that are NOT original, they are either in the 'public domain' or due credit is given to each artist/author. The files used in this regard appear as scaled-down versions or media 'clips.'
Content of I-Imagine
The content of I-Imagine is primarily focused upon imagination. There are four specific areas within this site. Each area contain sub-categories. Each area may be accessed separately depending on the user's interest.

click above for our Privacy & Policy issues

click above for information to NAVIGATE this site
or any category below
Products & Services v Income Building v Educational v Special Services
click on any button link above
You Are Presently surfing 'About I-Imagine'
Home | Welcome | Navigate | About I-Imagine
Products & Services | Income Building | Educational | Special Services
click on any link above
for questions and concerns about this site:
Copyright © 2003 - 2020 I-IMAGINE All rights reserved.
I Privacy Policy I I Copyright Notice I I Contact Us I