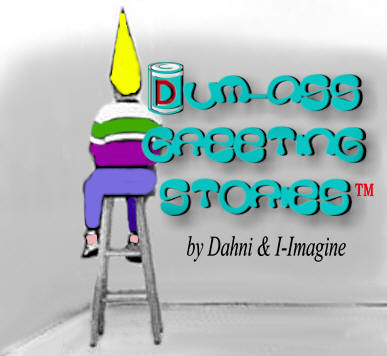 Welcome to 'Dum-Ass Greeting Stories'Ô by Dahni & I-Imagine. For a price we each can live with, we will write and illustrate a custom story to 'spoof' your friends, family members and associates. Use any occasion such as birthdays, anniversaries, holidays, you name it! Stories can be sent by U.S. Mail to the address of your choice, by Email or designed as a web page, hosted here.
We try to make these as believable as possible, but it's all a spoof and 'jus fer fun!'
We will use photographs (original and 'photo-shopped'), graphics and other treatments, to illustrate your story. Sound effects and music may be possible for online presentations (only if hosted here).
Online presentations will be hosted by us for 30 days.
Dum-Ass Greeting StoriesÔ or D.A.G.S.are NOT sent to stupid people or dumb-asses, they're just dumb-ass stories sent to your friends, family members and associates.

Custom design your own spoof greeting with us TODAY!' Email me with your ideas and we will work out a price we all can live with.
Please Note: We do NOT do, mean and nasty stories! There are no exceptions, so please don't ask!

click the 'Dum-Ass Face' to see an online example
Products & Services v Income Building v Educational v Special Services
You Are Presently surfing 'Dum-Ass Greeting StoriesÔ' in 'Special Services'
Home | Welcome | Navigate | About I-Imagine
Products & Services | Income Building | Educational | Special Services
click on any link above
for questions and concerns about this site:
Copyright © 2003 - 2020 I-IMAGINE.BIZ, Inc. All rights reserved.
I Privacy Policy I I Copyright Notice I I Contact Us I